Malcolm allows people to reveal themselves with a balance of compassion and insistence. There was a flow in our group thanks to him.
Loved the use of music and movement to unlock bodies and energies. Unusual for me to open up deep seated insecurities to anyone.
Malcolm made me realise that the anger inside me was not needed. His book 'Falling in Love, Staying in Love, helped me with the doing of that.
Malcolm has an air of calm and peace which means he can support without rescuing and listen without advising. He works collaboratively and with great sensitivity…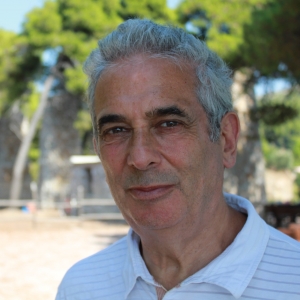 Malcolm Stern has worked as a group and individual psychotherapist for more than 30 years. He is Co- Director and Co-founder of Alternatives at St James' Church in London and runs groups internationally.
His approach involves finding where the heart is and helping individuals access their truth. His London One Year Group is the centrepiece of his work and has been successfully operating since 1990. In it he creates an environment of trust, integrity and community, where participants can become skilled in relationships, communication and managing difficult conversations. The ultimate learning is to Slay your dragons with compassion.
Malcolm also offers executive coaching and organisational training programmes. Clients include the European Investment Bank, BMW, the NHS, Ordnance Survey, Triyoga, Bristol Cancer Help Centre, Guildford District Council and Cisco Systems. He is a coach for Inspeyer. He specialises in Conflict as a Force for Change and Authentic Leadership.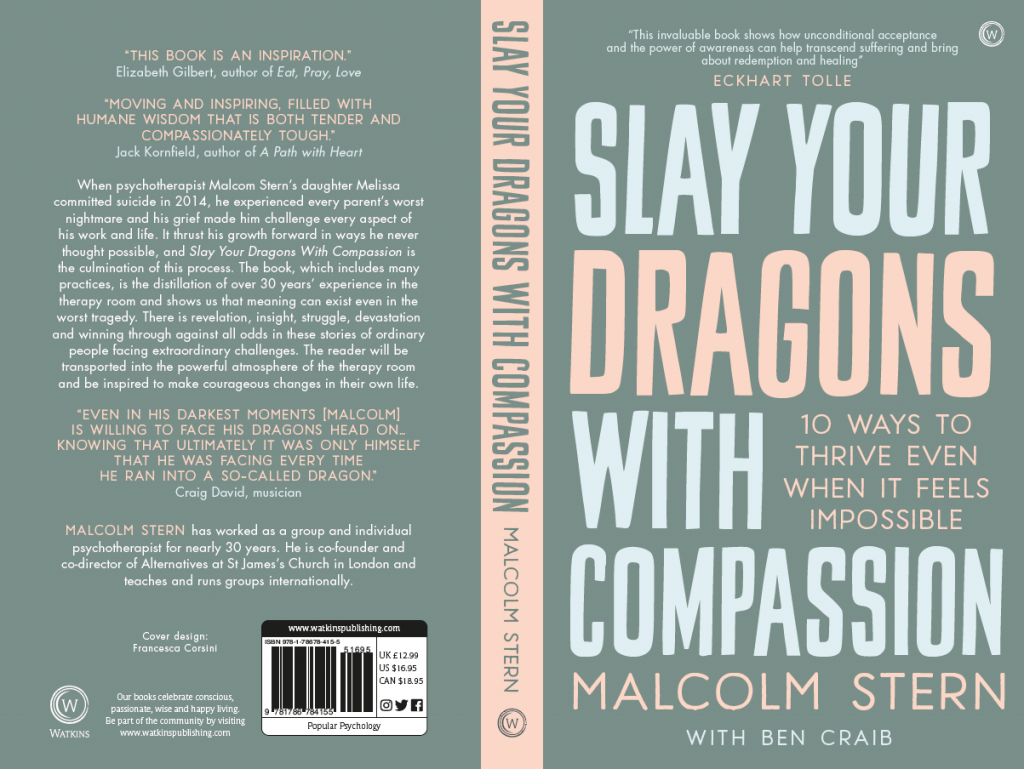 Malcolm's new book Slay Your Dragons with Compassion (due to be published 8 September 2020 by Watkins) describes 10 practices for thriving in an unstable world, all distilled from his thirty years of intense group work. The book is filled with practical exercises, which are combined with real and compelling stories from the therapy room. Malcolm will present at a book launch at Alternatives on Monday 19 October.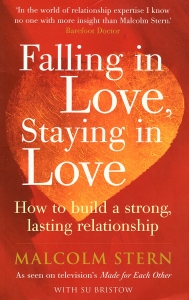 His book on relationships Falling in Love, Staying In Love, published in 2004, is available through Little, Brown Book Group and, as an e-book, through Amazon. Together with Vanessa Lloyd Platt, Malcolm co-presented the Channel 4 series on relationships Made for Each Other in 2003 and 2004.
He runs courses annually at Skyros (Greece), Cortijo Romero (Spain) and Finca Argayall (La Gomera). He also teaches occasionally at Esalen (Big Sur, California) and Findhorn (Scotland).
Between 2014 and 2017, he was involved in a project with Sarah Warwick and Peter Coyte – Seal's former writing partner in setting Kahlil Gibran's The Prophet to music. To date the ten piece band that has been formed around this work have performed five sell out concerts, – Findhorn's EarthSings  , "Alternatives" @ St James's Church Piccadilly and Triyoga.
Below the 'Love' track from the Prophet performed at St James's Piccadilly in 2012: